Services
Lynk Packaging has full service capabilities, including custom in-house design, a specialized warehousing program, and point-of-purchase display options. We will tailor any solution to your needs based on our expertise in the packaging industry since 1985. 
Lynk Packaging is a leader in custom package design! Since 1985, we've offered innovative, expertly engineered protective packaging solutions that promote your products. Highlights of our structural design service offerings include:
•Aurora, OH Location has ISO 9001:2015, with design certification 
(click here to download the Aurora,OH location ISO certificate)
• Complete CAD design suite including prototypes, TOPS (Total Optimization • Packaging System), Transit testing, and UN certified cartons.
• Linerboard capabilities ranging from Triple Wall through the complete range of double wall & single wall variants.
• Performance coatings and high graphics
• Assembled partitions in either solid fiber or corrugated
• Assembled "Box-on-Pallet "applications
• Honeycomb interior protection and Honeycomb build ups
• Foam interior protection solutions
• Majority of all paper products sourced through SFI certified mills
• Size rationalization and value discovery analysis available
Watch the video below for more information.
Lynk Packaging has the size, scale and experience to help with any warehousing and distribution challenge. We understand that warehouse distribution is the final key to getting your products to the market or your customer. You can trust Lynk with this critical piece of the logistics process!
We will design a warehousing program developed specifically to your unique needs. We will deliver your custom packaging products in our company owned and managed fleet of trucks. Specific reports will be given to you on a wide array of data including but not limited to: current inventory levels, historical consumption data, print and structural specifications, testing results, and many others. We will keep you up-to-date on Market trends relative to industry pricing and emerging technologies.
We are always looking for new and unique methods to provide more value for our customers as related to warehousing. Your materials will be shipped within 24 hours from stock, while pricing remains constant regardless of quantity released. We provide kitting and sequencing service that give you a competitive edge in today's manufacturing environment. 
With our focus on environmental sustainability we also have various recycling programs and our Aurora, OH location holds an ISO 9001:2015 with design certification.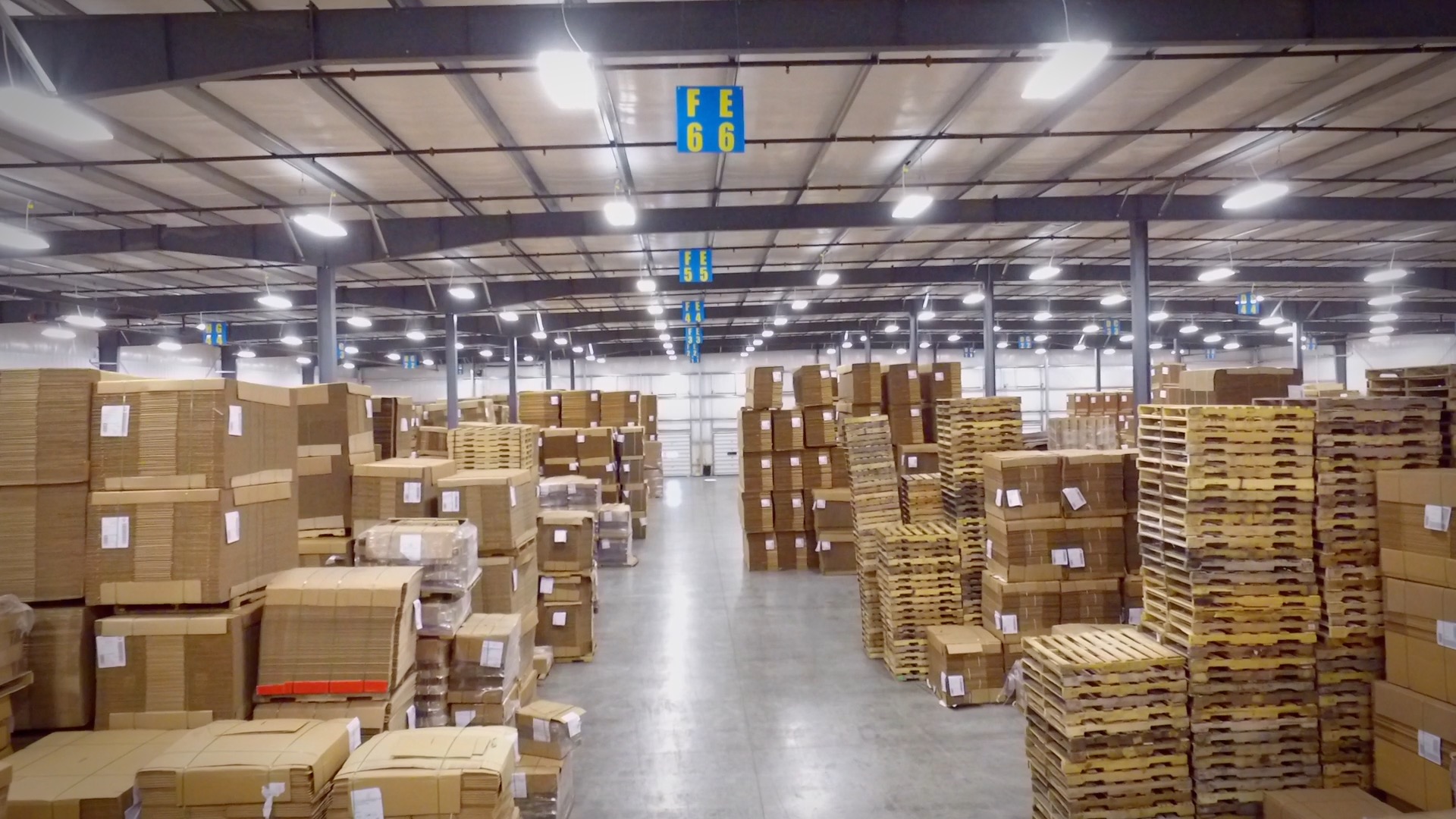 Capability to design and produce virtually any promotional display which include but are not limited to the following: 
Pallet display programs

Power wing, counter top, PDQ, retail ready, floor display, dump bin

Full litho label, spot label, and full litho die cut variations

"e" flute flexo, spot label, full Litho label, ready to seal

Point of Purchase co-pack and fulfillment

Chipboard cartons, inserts, and sleeves
Call or email us today to get started on your next project.
1250 Page Road
Aurora, Ohio 44202
25587 Conifer Rd.
#105-220
Conifer, Colorado 80433
Ohio: (330) 562-8080
Toll Free: (800) 989-0001
Colorado: (303) 842-7353